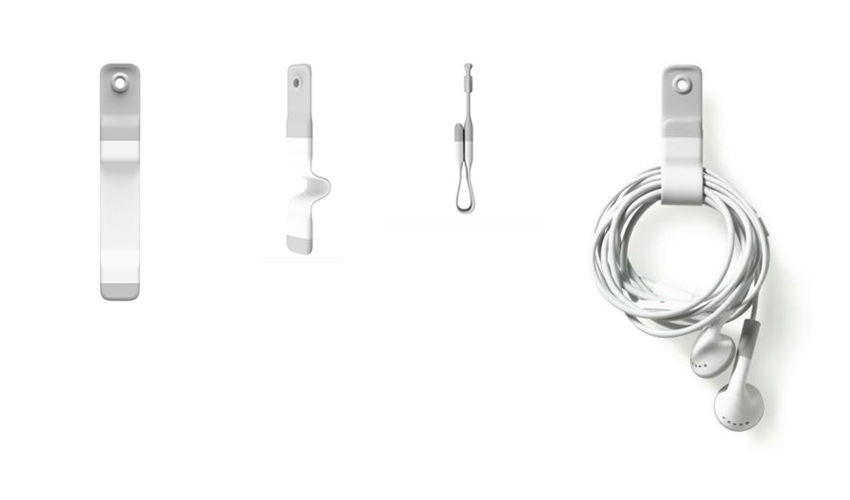 designed for simplicity.
Good design can solve the most complex problems. This is the inspiration behind Sinch; a simple solution for the chaos of cord management. Sinch uses the magic of magnets to control your cords and make life a little easier. Simplicity is the heart of Sinch's design. But there's more to it than meets the eye. Bend it, twist it and stretch it: Sinch is built to last.
---
setup.
Insert headphone plug into Sinch, Slide Sinch onto plastic housing, Plug headphone into device.

---
wrap.
Leave a little slack, Wrap around device, Fold Sinch to secure
the wrap.

---
release.
Just pull the ear buds up and away.

---
store.
Slide the bundle off your device to store. Store it on… or off your device.
---
By frog Design

frog works with the world's leading companies, helping them to design, engineer, and bring to market meaningful products and services. With an interdisciplinary team of more than 1,000 designers, strategists, and software engineers, frog delivers connected experiences that span multiple technologies, platforms, and media. frog works across a broad spectrum of industries, including consumer electronics, telecommunications, healthcare, energy, automotive, media, entertainment, education, finance, retail, and fashion. Clients include Disney, GE, HP, Intel, Microsoft, MTV, Qualcomm, Siemens, and many other Fortune 500 brands. Founded in 1969, frog is headquartered in San Francisco, with locations in Amsterdam, Austin, Boston, Bangalore, Johannesburg, Kiev, Milan, Munich, New York, Seattle, Shanghai, and Vinnitsa. frog is a company of the Aricent Group, a global innovation and technology services firm.
We know at frog that good design can improve the experience for life's problems both large and small. That's why frog teamed up with Dune Road Design to create a product that alleviates the chaos and frustration of rogue headphone cords. Thus, the Sinch was born: a new, high-design answer to the problem of keeping smart device cords tangle-free. design mind sat down with frog Creative Director Jonas Damon, who led the project, to discuss the organic journey of designing not only the Sinch product, but its entire ecosystem: packaging, branding, and web presence. Jonas explains that while the design may seem like the obvious solution, simple design can be very deceptive.
We are thrilled to have partnered with Dune Road Design on the Sinch, and are happy to have a hand in helping consumers live tangle free.
official website: www.thesinch.com